Gordon Wins Kyocera's 2022 Best Technician in the Nation Contest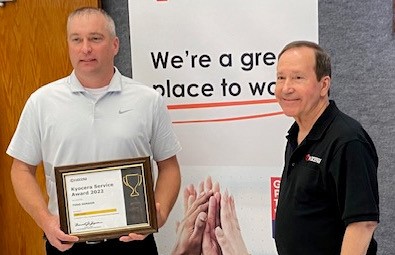 The final chapter of Kyocera's 2022 Best Technician in the Nation contest was held in Dallas on Friday, December 2. The five semi-final winners from each region of the country converged in Dallas, Texas and competed in the multi-phase contest.
Century is proud to announce that Todd Gordon came in 1st place as Kyocera's Best Technician in the Nation for 2022. The contest started in September as technicians all over the country started the grueling process trying to make it to the regionals in their area. Gordon moved on to the semi-regional contest in Chicago in October and won allowing him the chance to compete on the national level.
Gordon said, "This year's competition was incredibly tight with only two points separating first and second place.  The competition included taking a closed book test and problem solving on three intentionally bugged copiers from Kyocera's top engineers in the country, all while being timed." This is the second win for Gordon, with his first coming in 2012. Gordon will enjoy the win with and all-expense paid trip for two from Kyocera.
This is the fifth time a Century service team member has won Kyocera's Best Technician in the Nation contest since its inception in 2009. Century won it in 2009, 2012, 2015, 2018 & now 2022. No other technician or Kyocera dealer has ever won this contest more than once.
Once again Century is proud to be serving its customers with the best technicians in the country. This is a testament to Century's vision statement, "to be the best business partner through the technologies we provide and the employees that represent us."
For more information call us at 800-529-1950 or send us a note through our CONTACT US page.