Premier Dealer 2019 Executive Trip
Being a Kyocera Premier dealer for more than twenty years comes with a few perks, this year Century Business Products was one of only 24 dealers receiving this award out of over four hundred in the country. These dealers were invited on a trip to West Palm Beach, Florida where they were able to relax, but also have great conversations with Kyocera's executives. Kyocera did a really nice job welcoming the dealers at the airport as you can see from the photo of Kevin Jergenson (one of three Century owners) and wife Karen.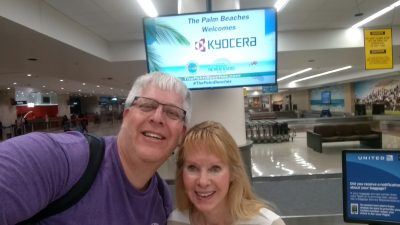 The dealers were able to play golf at the home of the PGA and Honda Classic, do some shopping, relax at the spa or ride on air boats at the Everglades. The nights were filled with presentations from Kyocera executives and socializing with the other Premier Dealers. Great time was had by all!