Aiming to Inspire Health
On Thursday, August 10th, "Team Century" participated in the Brookings Health System Foundation's eighth annual Aiming to Inspire Health sporting clays fundraiser. The CBP team consisted of Zach Bartels (Brookings Engraving), Brian Lueders (Brookings Schools), Jeff Smyrak (CBP), and Jackson Hagerfeldt (Advantage Land Company).
The proceeds of $21,650 will help purchase ten new Automated External Defibrillator (AED) units for the Brookings Police Department.
"Many situations require our law enforcement officers to serve as first responders to a medical situation and AED units are essential tools in performing that service to our community," said Brookings acting Chief of Police, Dave Erickson. "Thanks to all who supported this event and the resulting funding from Brookings Health System Foundation, we can upgrade­­­ our vehicles to the most current AEDs."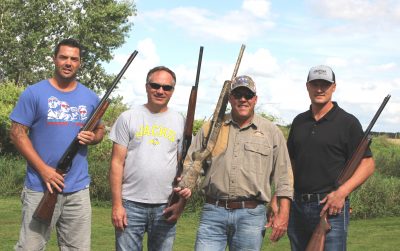 Zach, Brian, Jeff, and Jackson