Business Technology Association Scholarship Foundation
Century is proud to present Adrienn Peterson a check in the amount of $1,000.00 on behalf of the Business Technology Association Scholarship Foundation.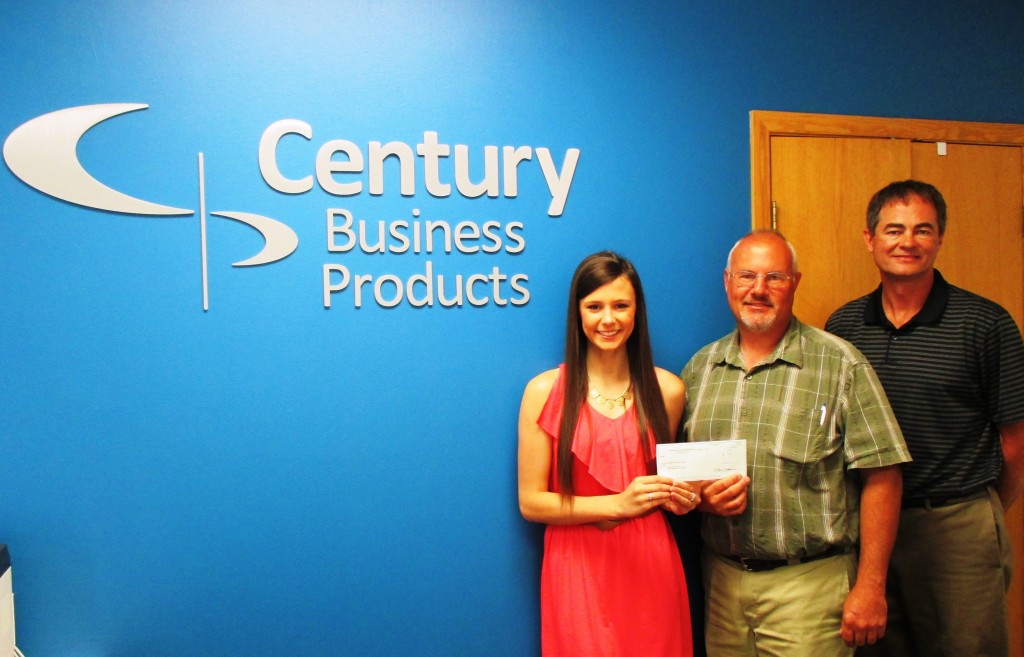 Adrienn, daughter of Todd Peterson graduated from Centerville High School in 2015 and will be pursuing a degree through the SDSU pharmacy program.
 Todd Peterson has been involved as a service technician in the office technology business for almost 30 years and has been a member of Century's service department for the past three years. Todd and his family live in Centerville, SD and he primarily works southeastern South Dakota and the Sioux City, Iowa territory. Century is proud to have Todd Peterson as an employee. He is a shining example of a dedicated employee that strives to always do their best.
 The BTA Scholarship Foundation is supported by continuing contributions from individual dealers, local and regional chapter associations, as well as manufacturers and distributors. Each year, BTA awards $1,000 and $1,500 scholarships to qualifying children of full, dues-paying retail dealer members and to the children of members' employees as well.
 Founded in 1926, the Business Technology Association (BTA) serves office technology dealerships, resellers, manufacturers, distributors and service companies. Its core members — office technology dealerships — consult, provide services and sell hardware, software and supplies with the primary goal of helping businesses optimize business document and information workflows. Through the association's various educational programs, information, research, legal services, publications and guidance, BTA member dealerships are positioned to be the premier source of the office technology used by businesses throughout the United States every day.
 The BTA Scholarship Foundation was established on Feb. 23, 1968, when the announcement of its creation was made at the Dorothy R. Ames retirement dinner. The BTA East District (formerly EROMDA) initiated the fund to honor Ames because of the many contributions she had made to the office technology industry in that district. Accordingly, the fund bore her name. In July 1971, at the EROMDA Convention in St. Louis, the Dorothy R. Ames Scholarship Foundation merged with the association's Scholarship Foundation to become an important benefit for the sons and daughters of BTA dealer members and the sons and daughters of employees of BTA dealer members.
 Since the 1984-85 school year, the Business Technology Association has awarded 1,327 scholarships totaling $1,495,500 to the sons and daughters of the full-time employees of member dealerships.
 Scholarship recipients are chosen by an impartial and independent evaluator.
 Congratulations Adrienn, we wish you the best of luck!