Congratulations, Carly!
The Business Technology Association (BTA) has awarded CBP team member Jason Bogenreif's daughter, Carly, with a $1,000 scholarship towards her college tuition. Carly is attending the University of Nebraska where she is majoring in criminal justice. She plans to graduate a year in advance and begin law school. 
BTA serves office technology dealerships, resellers, manufacturers, distributors, and service companies. BTA provides its members with legal services, channel trends and research, education, and industry news. Century Business Products has been a member of BTA since 1984.
Each year, BTA awards a number of $1,000 and $1,500 scholarships to qualifying children of full-time employees whose dealerships are current BTA Retail Dealer members. Since the 1984-85 school year, BTA has presented 1,422 scholarships to deserving students, totaling $1,606,500.
Congratulations, Carly!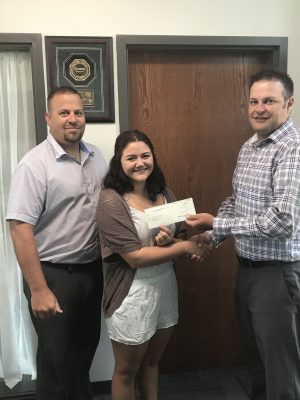 Jason Bogenreif (Sioux City Sales Solutions Manager), Carly, Mike Satter (Sioux City Branch Sales Manager)