Managed Print Services: What It Is and 7 Ways Your Business Can Benefit from It
Great news: your business is growing. But the bad news is that all of the equipment that makes up your printing environment–printers, scanners, fax machines and copiers–are straining under the load of all those new projects coming in. Your printing operations can also burden your budget, sometimes in unexpected ways. One alternative is using a commercial printing company, which is costly and usually not a good fit for day-to-day operations in a small business. Another is using retail printers that can nickel-and-dime you out of cost-effectiveness altogether, not to mention the lack of convenience.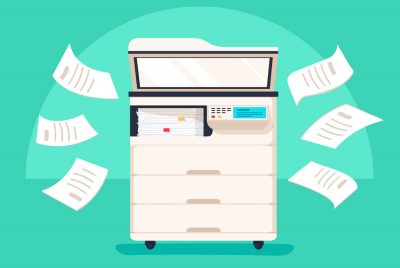 The Essentials of Managed Printing Services
The optimal solution for helping your business keep up with its printing needs is a managed print services (MPS) program. Century Business Products offers these services to assist you in managing your document output. An MPS program provides four main components:
Needs assessment
Selective or general updating of printer fleet
Provision of the service, parts and supplies necessary to operate your equipment
Tracking user satisfaction and problems
The 7 Business Benefits of Managed Printing Services
The main components of an MPS program give your printing environment comprehensive coverage. But the power of these components working together are what brings these 7 substantial benefits to your business:
Analyzing your printing needs. Century Business Products has experience analyzing a variety of print environments and can make recommendations on how to optimize yours to meet user requirements and to increase business productivity.
Finding the best place for your printing equipment. With our help, improve your workflow by making your printing fleet easy to access for your team.
Replacing inefficient printers. We can show you which machines are underperforming and replace them with efficient devices.
Delivering the printer supplies you need. You're no longer caught off-guard when you're low on ink or toner. We provide businesses the options they need for easy and hassle free toner replenishment.
Making your budget more predictable. Our program is based on a monthly fee, so you can expect to maintain cost-effectiveness over time.
Providing on-site and remote service. When you need it, you'll have equipment maintenance and repair as well as access to a help desk and other remote monitoring.
Training employees on new devices. Skip the downtime and get your team up and running on your new printing fleet with the help of Century Business Products.
Century Business Products is an excellent solution for small businesses that regularly require printing services and have an organization-wide printing fleet. If you are considering managed printing services for your company, contact us today to learn more about the managed print services we offer.