30th Anniversary & Sioux Falls Open House
Sioux Falls 30th Anniversary Open House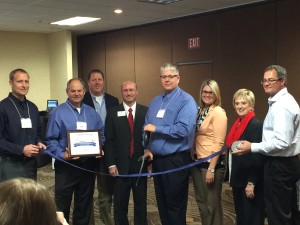 Century Business Products of Sioux Falls celebrated 30 years of technology on November 19th at the Holiday Inn City Centre. 
Nearly 200 people attended the open house celebration with over 50 businesses from the Sioux Falls area. 
Representatives from Kyocera attended the celebration and presented Century Business Products with a crystal gift celebrating our 30 year partnership. Square 9 representatives also attended the celebration and presented the benefits of their Document Management System.
Attendees enjoyed refreshments and appetizers while learning about the latest advancements in office technology, software solutions and managed services. This group learned about the cloud applications that are now available on the new Kyocera Multi-Function Peripherals (MFP's). 
Door prizes were given away at the celebration and included two iPads, won by Mallie Kludt with the Volunteers of America and Ben Matthies with Bell Incorporated. 
Thank you to everyone who was able to attend the celebration. Century Business Products is excited about the future in office technology and will be here to serve your needs for the next 30+ years!