BEWARE OF THE LATEST CYBERSECURITY THREAT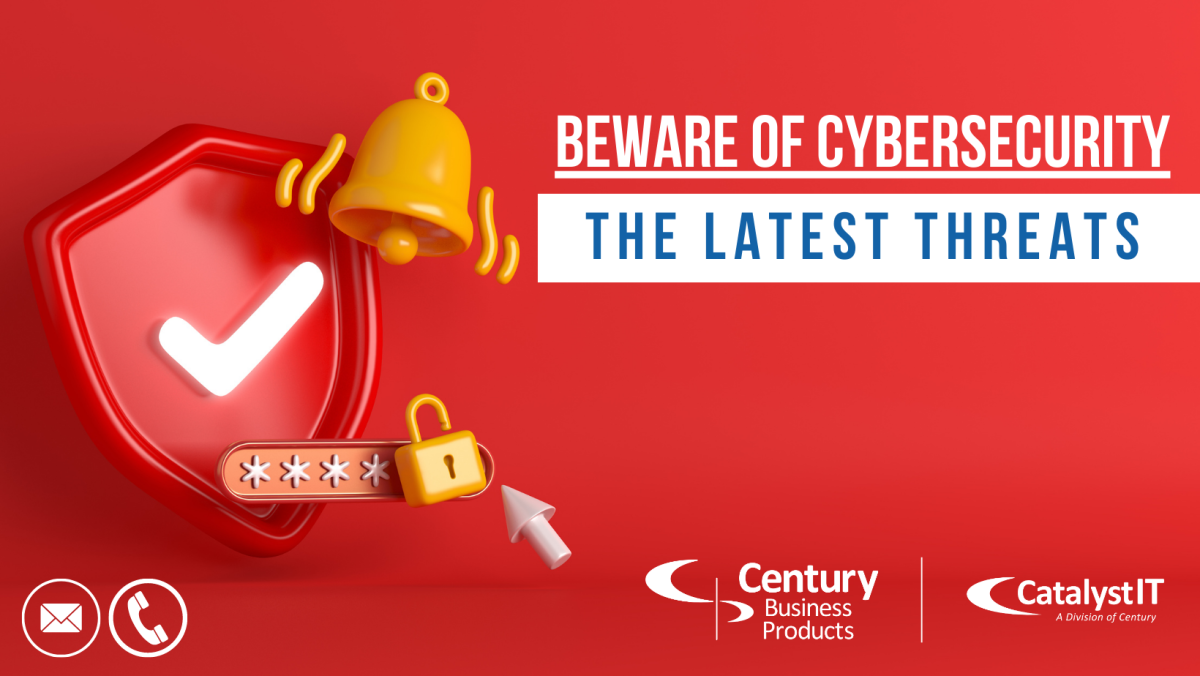 Century Business Products & Catalyst IT are aware of fraudulent, circulating cybersecurity threats. 
THE LATEST CYBERSECURITY THREATS: 
These threats are ongoing. You may receive a call posing to be one of your vendors and they will try to trick you into downloading a virus. These Cyber criminals have been calling claiming that an update needs to be downloaded for your office equipment—specifically your copier. They will then send you an email with a Zoom download link and coerce you into downloading malware and viruses. These viruses can steal information from your business and potentially take over your computers, making you vulnerable to ransomware. This is becoming more common with the latest cybersecurity threats.
 
Another similar event took place, with the scammer posing as an IT Company, which resulted in the victim's computer shutting down and restarting. The screen displayed the victim's name and said, "Thank You." 
 
This is a reminder that Century Business Products & Catalyst IT will NEVER ask you for information about your device. We have your information stored in our secure databases. We often call clients regarding updates, meter readings, etc., so you need to be vigilant to ANY call that is posing as Century Business Products.  
 
In another attempt to potentially download a virus, a person actually entered an office supply store in one of our service areas and asked to print something on the copier using their thumb drive. This is common for this business, so they allowed him to do so. After about 5-10 minutes, he said he couldn't get it to print. Luckily, the store told him they were having network issues and told him they couldn't help—it is assumed he wanted them to offer to put his USB drive in their computer to download a potentially harmful virus. DO NOT allow strangers to have access to your computers or network. 
 
HOW TO SCREEN A CALL FROM A POTENTIAL VENDOR
 
If you receive a call from Century Business Products (or any vendor you have), you can determine if the call is legitimate by asking for identifiable information that a true vendor will have. You can ask us: 
     – What is my Customer ID? (This can be found on your last bill) 
     – What is the make and model of my machine? 
     – What is the 5-digit number for my machine? (This can be found on the CBP sticker on your machine) 
     – Ask the caller for their name and title (An employee would not hesitate to give their name and title)  
If the caller does not know or hangs up, it was most likely a scam. 
 
Never download or open an email from an unrecognized name or domain address. If you are unsure about the email or phone call, call us directly at 1-800-529-1950 and ask about the contact you've received. 
 
SAFE EMAIL LIST 
 
If you're unsure about an email from us, double check the domain address with this list: 
     – @cbpnow.com 
     – @cbpinc.biz 
     – @catalyst-itnow.com 
     – @cbpnow.ccsend.com 
     – @yournetexperts.com 
 
Any other email address is likely a scam and should be deleted. As a reminder, our help desk is through ConnectWise's ScreenConnect, we do not use Zoom.  
 
Typically, scam callers will call ahead of time, and ask you questions about your office. They may pose as surveyors or something innocent, to find out what equipment you have, the make, the model, your vendor. Then, weeks/months later, they call back posing as said vendor. DO NOT give out identifiable information to strangers over the phone, EVEN IF they sound like they're legitimately your vendor—YOUR VENDOR WILL HAVE ALL OF THIS INFORMATION. 
 
SEE SOMETHING, SAY SOMETHING 
 
If you think you are being contacted by a potential scammer, call CBP at 1-800-529-1950 or Catalyst IT at 1-877-843-9611. Further questions can be directed to our help desks at [email protected] or [email protected].  
 
Another prevalent scam has been occurring. Read here to learn about the toner scam.
 
Remember to be cautious with ANY phone call or ANY email you receive. This is true for any vendor you deal with—personal or business. Zero-trust until proven trustworthy! If you hear of any new cybersecurity threats, contact us immediately so we are aware.
 
Any other questions can be directed to Century Business Products or Catalyst IT.