TONER PIRATES at IT Again with new Tactics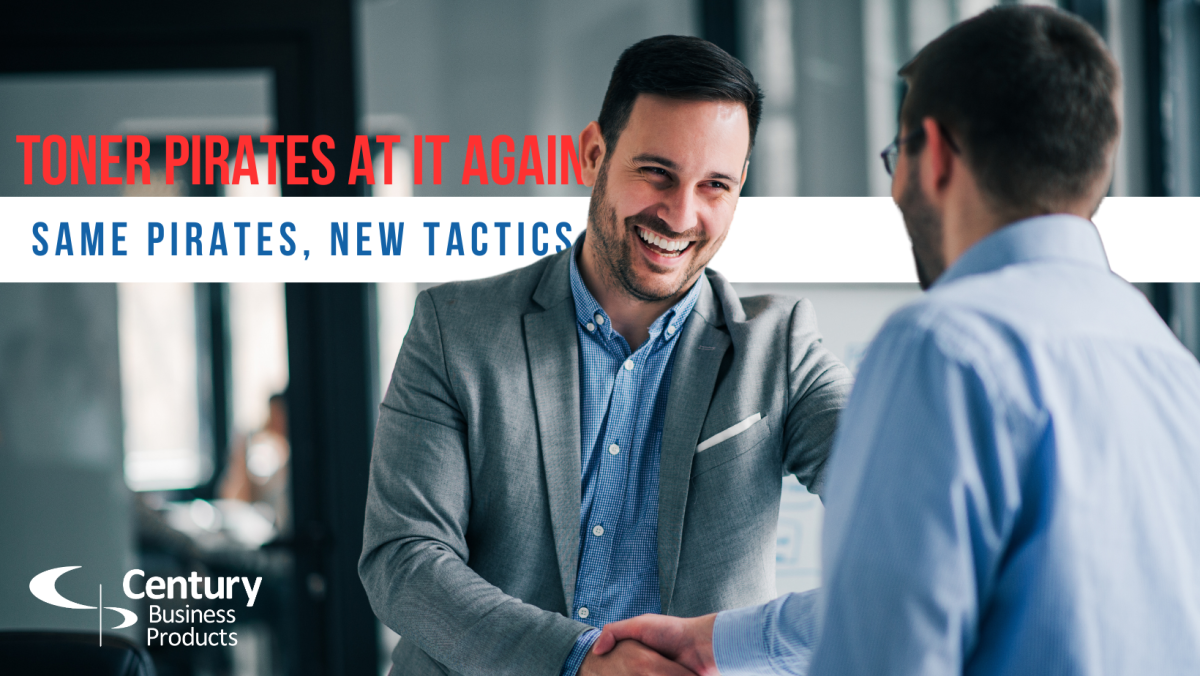 Century has numerous clients calling about toner scamming again. The scam is the same, but the pirates are new. These Pirates call businesses claiming to be their supply company or claiming to be Century Business Products.  
 
They will get your contact information, ask about your current equipment, and quiz you about your current servicing company. Later, they will call back & use that information against you, informing you that toner prices are going up, smoothly coaxing you into ordering toner from them at a low price.  
 
HOWEVER, they will send you low quality cartridges for up to 5x the price of your typical toner. 
 
Another recent scam took place in one of our service areas—the scammer called and ordered toner, but did not have it delivered anywhere. A Taxicab came to pick up the ordered toner—this is already unusual. They paid with a credit card and left. Long after they were gone, it was discovered that the credit card was a fake/expired and they stole the toner. BE AWARE of unusual or out of the ordinary events—like someone picking up an order in a taxi. 
 
HOW TO SPOT AND AVOID TONER PIRATES: 
 
IF YOU GET A CALL 
     – BE AWARE | Century will never call you to say toner prices are going up. 
     – CHECK YOUR CONTRACT | Toner is included in most maintenance contracts. 
     – ASK THEM QUESTIONS | Most scammers will hang-up. 
 
IF YOU GET A DELIVERY 
     – REFUSE the shipment and DO NOT pay the invoice. 
     – NOTIFY SENDER you intend on keeping the shipment as a gift unless they arrange for pickup of the toner at their own cost. 
     – CONTACT CENTURY at 1-800-529-1950 to report the incident. 
 
SEE SOMETHING, SAY SOMETHING 
 
If you think you are being contacted by a potential scammer, call CBP at 1-800-529-1950 or Catalyst IT at 1-877-843-9611. Further questions can be directed to our help desks at [email protected] or [email protected].  
 
Scams are always developing—including a new one. Read here to learn about the newest scam.
 
Remember to be cautious with ANY phone call or ANY email you receive. This is true for any vendor you deal with—personal or business. Zero-trust until proven trustworthy! 
 
Any other questions can be directed to Century Business Products or Catalyst IT.