Multi-Tray Mailboxes
Multi-Tray Mailboxes……A Smarter Way to Print!
Are you tired of all the expensive printer toners taking up space in your office? Are you tired of paying the high price of the toner cartridges? Is your fleet of old printers ready to be retired? Would you rather your IT department work on the network rather than printers?
Then maybe it's time to get more out of your copier!  Simply add an accessory, Multi-Tray Mailboxes, to your Kyocera copier and reduce the numerous printers in your office. The cost of the accessory would be offset by leveraging the cheaper printing cost of the copier that is already being maintained under your service contract. Replacing your old worn out printers would also reduce your business' power consumption and reduce wasted office space.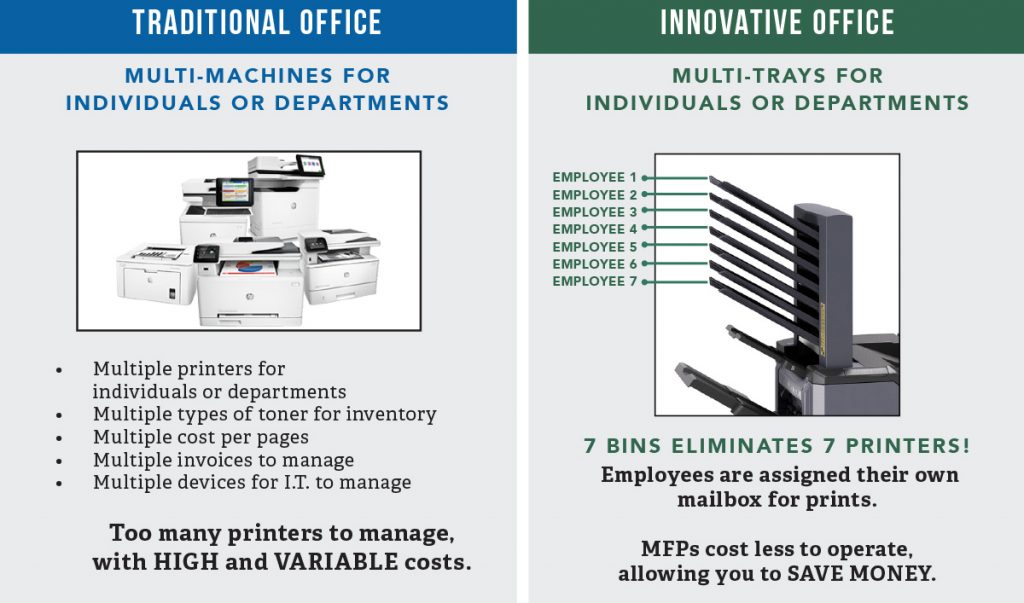 The mailboxes for the Kyocera copier would solve many other printing problems in a company. Reduced waste from re-printing documents that were thrown away at the copier and wasted time individuals spend sorting through documents looking for the correct print out.
Depending on the device, you may be able to get an exit tray with 5 or 7 trays. The exit trays can be set up so individuals have a specific tray or each tray can be set-up by department.
For more information on Kyocera's Multi-Tray Mailboxes click on the contact us link or send an e-mail to [email protected].