Kyocera Rated the Highest among Managed Print Services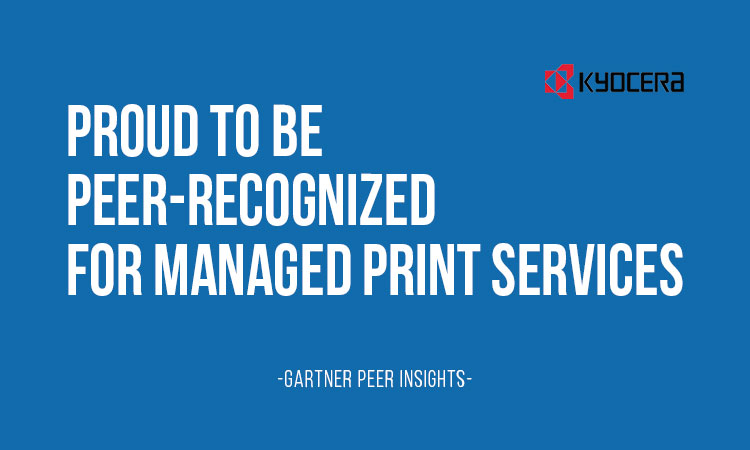 Century Business Products is excited that their manufacturer of choice, Kyocera, is once again at the top, this time for Managed Print Services. Gartner Peer Insights, "Voice of the Customer," detailed the analysis in its November 2020 report.
What Is Gartner Peer Insights "Voice of the Customer"?
Gartner Peer Insights is a free peer review and ratings platform designed for enterprise software and services decision makers. Reviews go through a strict validation and moderation process in an effort to ensure they are authentic.
Gartner revealed the areas in which Kyocera has excelled, receiving the highest rating in Overall Service Capabilities, Evaluation and Contracting, Planning and Transition, as well as Delivery and Execution. This is a clear illustration of Kyocera's attention to detail and the customer-focus nature of the MPS offerings.
What is Managed Print Services?
Managed Print Services (MPS) The definition of Managed Print Services is a fully-integrated program that helps organizations streamline their printing fleet. It involves document management experts who analyze your printing usage and needs to rapidly identify opportunities for optimization. With this approach, you can quickly reduce printing costs and avoid device downtime, capitalizing on the tools at your disposal to become more efficient and productive in how you manage documentation. Normally Managed Print Services (MPS), companies are provided with the latest technology not only copiers or printers, but including cloud technology, software and analytics. The goal is to address all aspects of the businesses processes to enhance existing organizational strengths.
5 Areas of Focus for MPS
The following are five key Kyocera Managed Print Services benefits that could help your business to become more efficient in how it prints and manages documents:
Drive productivity
By creating seamless workflows across paper and digital platforms, MPS helps create more efficient processes to drive growth. Through the removal of unnecessary steps, bottlenecks are reduced and decision making becomes more agile. A shift towards digital processes not only reduces paper-dependence, but it also helps greatly reduce costs.
Enhance print security
With the rise of enterprise mobility, businesses need to ensure that employees can print, scan or share documents in a secure and convenient way regardless of location or device. MPS helps create a strong security infrastructure to protect confidential data from any unauthorized access.
Gain control over printing
MPS gives you complete visibility over end-to-end print operations. It helps quickly identify the root cause of backlogs and inefficiencies while identifying easy ways to boost productivity. With MPS there are no blind spots and companies can count upon a solution that helps turn the huge volume of information (both physical document and digital data) at their disposal from a burden into a strength.
Managed Print Services reduce costs
Increased control over printing fleets means issues can be identified and solved before they even happen. Downtime is minimized and costly service disruptions become far less common. MPS enables businesses to analyze their printing in detail; they can identify if a particular department is exceeding color printing thresholds, for example. This data allows for accurate print budgeting and cost allocation – no more billing surprises at the end of the month.
Sustainable printing solutions
Through the digitalization of traditional paper-based jobs, teams print only what's necessary, thus reducing paper waste. By printing more efficiently, MPS helps significantly reduce energy and carbon consumption so businesses can play their part in working towards a greener future.
Are Managed Print Services for you?
Managed Print Services are more than a solution, they're a mindset. This platform enables employees to work, collaborate efficiently and safely provides your business the potential to elevate growth to new heights. MPS helps build core competencies and scalability; it not only helps your business grow; it pushes you to go that extra mile so that you can deliver even greater value for your customers.
At Century Business Products, MPS has been a staple offering for our customers for more than ten years. Call us at 800-529-1950 or go to our contact us page to set up an appointment for a free assessment and discussion on how MPS will work for your business.