The Efficiency of Using Kyocera HyPAS Applications in Your Business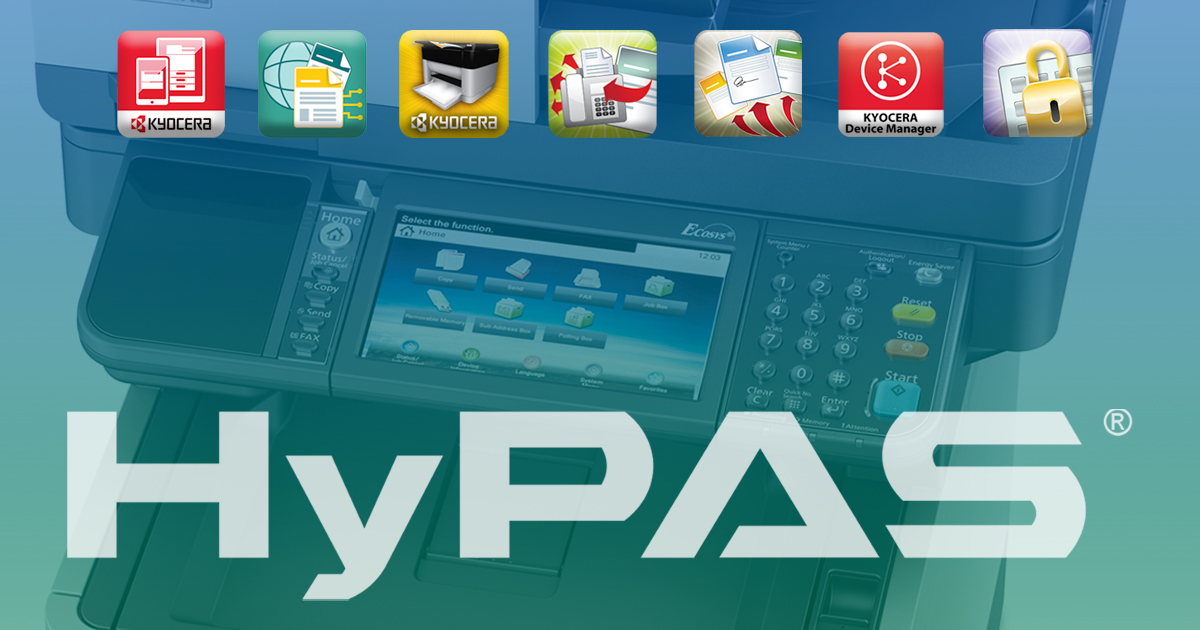 HyPAS Applications
HyPas stands for Hybrid Platforms for Advanced Solutions, a type of technology that allows you, and your colleagues, to optimize the functions of your Kyocera MFP/copier through the use of different applications. These applications improve and customize your printer to meet your office's specific needs, very much like applications for your mobile device.
There are nearly fifty HyPas applications that can be used by Kyocera multifunctional copier/printers (MFP), the following are a few of the most utilized:
1.    Fax Connectors
Enable you to fax directly from your Kyocera MFPs to a Cloud (Virtual Server), saving multiple steps
Eliminates the need for fax lines
Faxing from the copier is easy, clean and compliant
2.    Secure Print with Tracking
Increases flexibility by retaining jobs on lists until printed
Documents deleted if not released within a certain time period, controls waste
Confidential documents aren't printed and accidentally viewed by others
User interface is easily understood and ensures swift operation
Easy integration
3.    Teaching Assistant or Testing Application
The Kyocera MFP/copier automatically creates, grades and analyzes bubble test allowing educators to concentrate on the students themselves, instead of the time-consuming, error-prone process of manual test grading
Simplifies printing, collecting and analyzing multiple-choice tests
Test scores and associated reports are immediately available
Comprehensive analytics are available as printed files, PDF's or CSV's for import into Microsoft
See statistics on the easiest, or most difficult, questions to help review areas needing the most attention
Simple and easy to use for educators and businesses
4.    PinPoint Scan Application
PinPoint scanning enables employers and employees to individually customize where documents can be sent, like Dropbox, OneDrive, Google drive, e-mail, shared folders or desktop. You choose!
Allows direct scanning to application from Macs or PCs
Secures documents with SSL encryption
There is no IT intervention
Benefits
To Business Managers
HyPAS applications reduce the cost of operation and infrastructure
Increase speed of processing and capacity
HyPAS applications can be used not only with personal computers but also on mobile devices
 The different applications are suited to handle different pain points within your business processes
To IT Specialists
They have maximum security as they use secure protocols
The cloud solutions can provide both 'Hybrid' or 'Private' control solutions, which can protect   sensitive data
  Easy installations and operation with minimal IT intervention
Kyocera HyPAS Business applications are game-changing tools, especially for small business owners. Maintain secure protocols, tailor-made needs, turn everyday office tasks into simple realities and control costs.
To better understand what applications are right for your business, contact a Century Business Products representative to set up a free consultative meeting. Contact us or call 800-529-1950.
Century Business Products: Powering Business Technology