The Value of Working with Century Business Products & the Nation's Best Kyocera Technicians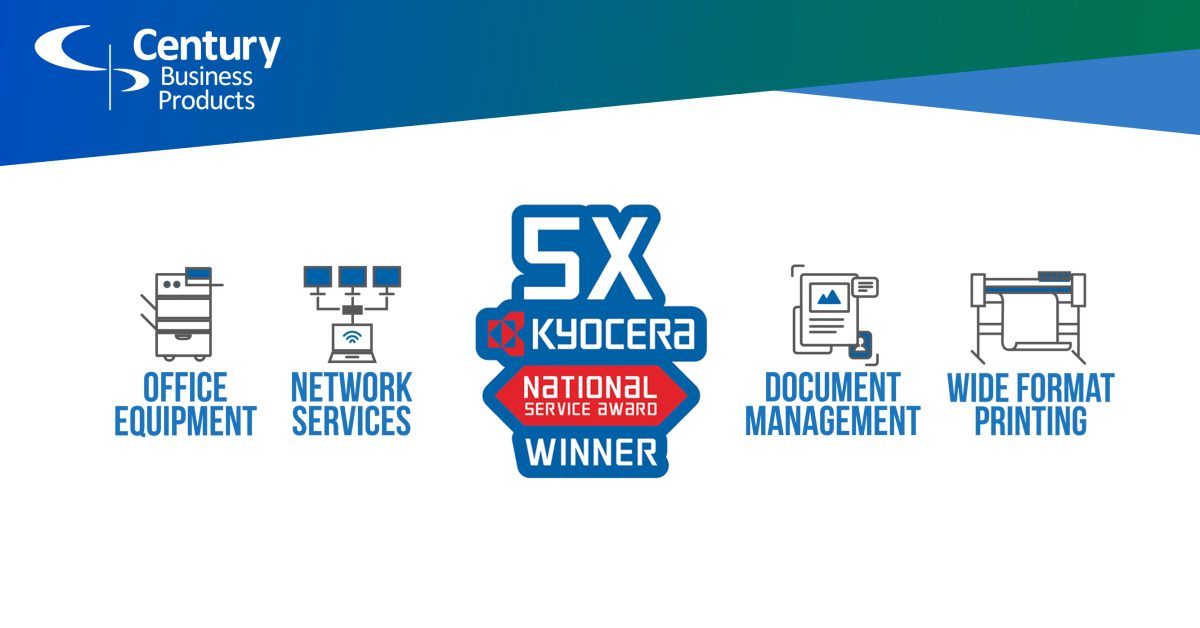 Century Business Products boasts five of the nation's top Kyocera technician awards. We are the only multi-award winner in the country! This hard-earned title means you, the customer, benefit from working with Century. The value we bring to the table is unmatched! Here are three reasons your business would find value working with Century Business Products.
1. Rigorous testing means skilled technicians
There are multiple testing phases when competing for the Best Technician title. It begins with an online test, followed by a regional match-up and culminating in a national competition to determine the winner. There is a written test and an interview session with Kyocera's engineers. Competitors then must detail the process taken to troubleshoot intentionally bugged machines. Nearly 4,000 technicians compete in the U.S. In order for Century Business Products' technicians to win five times, they must be well-trained and skilled in what they do. This means CBP can get your business's Kyocera back up and running quickly when an issue arises, because in theory they've seen it all and should be able to speedily identify and resolve the issue.
2. 100% of our technicians are factory trained
Century's technicians are trained specifically to fix Kyocera copiers and printers. Machine technology can vary between brands, and our technicians are trained to work on the brands we sell and maintain, offering you peace of mind. As a one-line dealer, Century receives unparalleled support from the manufacturer. Not only do our clients experience consistent quality and uptime, the integrated technologies by Kyocera's product line provides more efficiencies within your business process.
3. Century boasts an 88% first time fix rate for hardware repairs
This statistic means that our technicians are able to resolve hardware issues upon their first visit to your office 88% of the time. The national rate is only 80%! Our highly skilled technicians are able to fix your Kyoceras right the first time, saving you time and money.
Working with Century Business Products means your Kyocera printer or copier will be serviced and maintained by trained technicians. Their reliability and skillsets help your business run efficiently. Century's vision is to be the best business partner through the technologies we provide and the employees that represent us. Our proudly displayed 5x Kyocera National Service Award Winner logo is a testament to our commitment to the vision.
Contact us or call 800-529-1950 today to learn more about working with the best that Century has to offer and see why, "We're Powering Business Technology."