Being a Kyocera Premier Dealer & Service Solution Provider is Good for Your Business
Office equipment failures, misplaced or lost documents or an ineffective networking system can hurt your business through reduced productivity and missed opportunities. Today's successful companies understand how superior equipment, elite service and managing documents electronically improves their bottom line.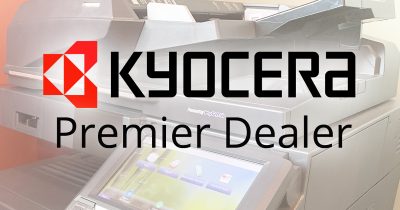 But how can you be sure you've got the right equipment and the right support to triumph in today's fast-paced business world? The easiest and smartest way is to choose a business technology partner who not only has a long history but has also been vetted by an international document solutions industry leader.
Twenty consecutive years and counting, Century Business Products has earned the coveted Kyocera Premier Dealer & Service Solution Provider designation. Being selected requires the highest level of expertise in equipment, technology and service.  It also means participating in extensive factory training and demonstrating expertise in all areas of document management.  Only 10% of Kyocera dealers in the nation meet these requirements and earn the distinction of being a Kyocera Premier Dealer & Service Solution Provider.
So how does all this benefit your business? It begins with knowing that Century Business Products' team of experienced document solution experts will design the right equipment and software to fit your exact needs. It also means that should you have equipment or network issues, our award-winning service technicians have the knowledge and skills to get you back up and running quickly.
So, working with Century, your local Kyocera Premier Dealer & Service Solution Provider means your business will be working at peak levels needed to beat your competition.
To learn more about the benefits of partnering with a company that is nationally recognized to handle all of your hardware and software needs, call Century Business Products at 800-529-1950.