Century attends Kyocera national convention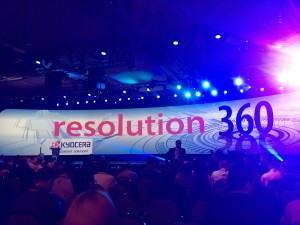 Several Century Business Products employees were lucky enough to escape the spring ice storm this week in South Dakota to attend the annual Kyocera Document Solutions national convention, held April 8-10 in Dallas, Texas. Dealers from around the nation had the opportunity to attend the general meeting, several seminars and a technology fair showcasing new products. The theme of the show, resolution360, focused on managing customer's paper processes from start to finish.
Discussions emphasized the powerful integration of Kyocera products with our software solutions. The product line, enabled with HyPAS (downloadable software applications for Kyocera products) is the strongest in the industry with over two hundred Kyocera and third party software solutions available worldwide.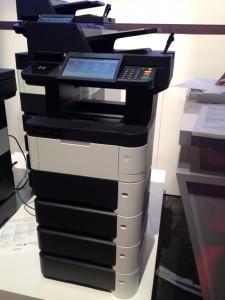 Unveiled at the technology fair were more than twenty new or enhanced machines for release later this year. The entire product line has a revamped touch screen and are HyPAS enabled for easy integration into any business workflow system. The smaller desktop machines are based off the new 4000 series printers and will include large touch swipe screens and a document feeder that will scan at the same speed as print engines of the MFP.
 Century Business Products was presented with the Premier Dealer Award for the fourteenth consecutive year. Todd Gordon, winner of the Best Technician in America competition, was also recognized.
In an effort to better understand the changing role of our industry, to communicate and network with other dealers in the industry, and to stay on top of new technology and software trends, Century sent a group of employees from several departments, including sales, service and warehouse staff. This continued commitment is directed by the Century mission statement, shown below.
"Our vision is to be the leading Office equipment provider in the areas we serve by providing office solutions and ensuring complete customer confidence through performing quality service, support and training with dedicated employees who are proactive and focused on surpassing our clients' needs and expectations."