Gordon rewarded as top service technician
It's nice to know that years of dedicated work for a company will be rewarded with recognition for a job well done. Todd Gordon, the winner of the Kyocera Best Technician Award in America contest was recently rewarded with a trip to the Kyocera corporate headquarters in Japan and China on October 27.
While in Japan, Todd and fellow U.S. Kyocera representatives visited several Kyocera facilities and had the opportunity to meet the president of Kyocera Corporate, Katsumi Komaguchi, the man in charge of the ceramic, solar, copier and printer divisions of Kyocera.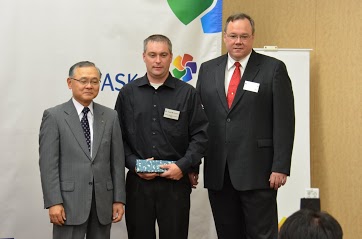 The trip also included an extensive tour of the newest toner facility in Japan. This location produces a considerable amount of toner while utilizing less energy, consistent with Kyocera's strong commitment to being green.
After spending four days in Japan, Todd traveled to China to tour one of the MFP and printer production facilities. "Everything is assembled by hand. There is no robotics in these plants." Todd noted. The smallest components were assembled by hand, tested for quality control and then advanced to the next assembly station until they reached the final area for final production and field testing.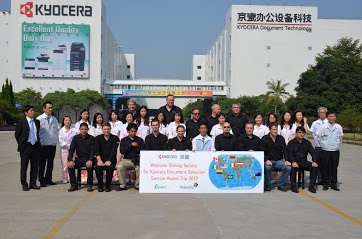 Once again, congratulations to Todd for his dedication to Century Business Products and the Kyocera products he maintains!