Kyocera Doubles Down on Renewability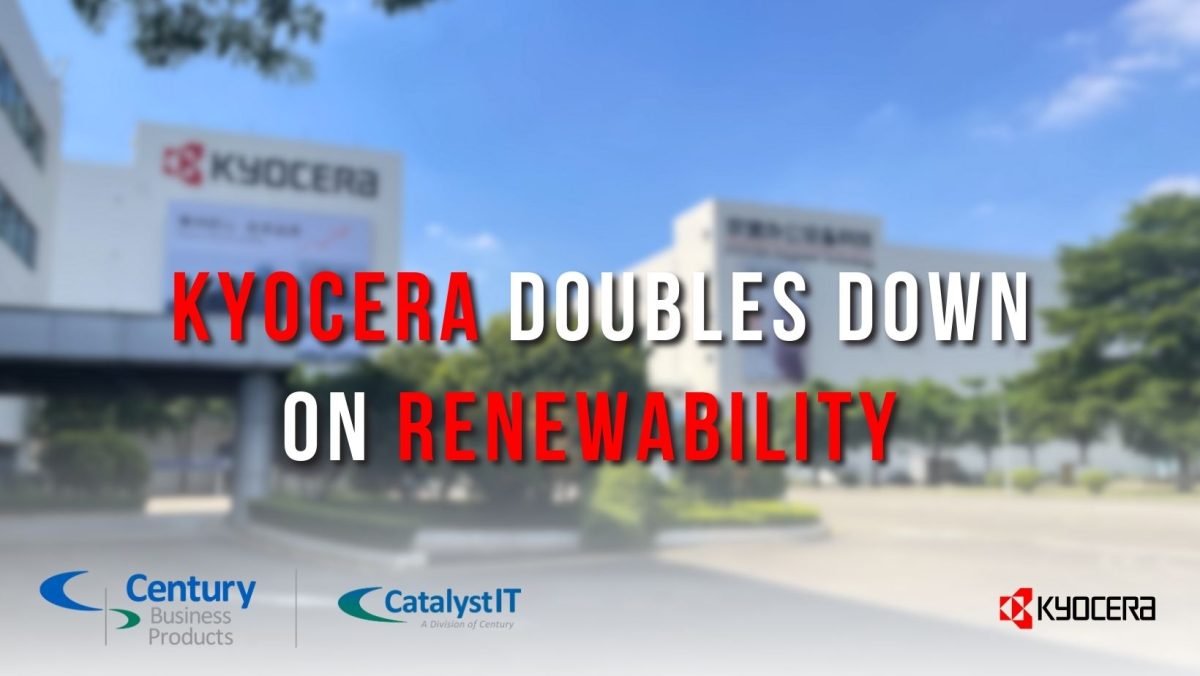 Kyocera Document Solutions America, Inc. has taken another dive into renewable energy and another leap into the future. Kyocera's President, Hironori Ando, announced that Kyocera's two most vital production sites from China and Vietnam are now fully powered with renewable energy. 
 
Kyocera has a green history that is growing greener by the year. Century Business Products knows Kyocera's products to be efficient, durable, and reliable. Kyocera doubles down on renewability, and we're doubling down on Kyocera.   
More of Kyocera and Century Business Products Going Green 
Kyocera has been moving towards renewable energy for quite a while—but what are they actually doing? 
The Kagoshima Nanatsujima Mega Solar Power Plant has a capacity of 70 megawatts—enough to power roughly 22,000 Japanese homes.  
2. Kyocera utilizes recycled plastic material in the manufacturing of all products. 
Up to 30% of the plastics used in Kyocera products are recycled. 99% of the total plastics used can be recycled. 
3. Kyocera toners are recyclable 
Kyocera machines are designed with recycling in mind; all copier & printer toner containers are made of recyclable plastic for disposal in your #2 recycling bin. If you're unable to recycle, there is an Eco Program where consumers can return their empty cartridges to Kyocera for recycling. These products will be remanufactured into new products that help reduce demand in manufacturing processes while improving resource, recovery, & efficiency.  
4. Environmentally friendly printers 
Kyocera's printers are designed to minimize environmental impact. The key features that make Kyocera printers so environmentally friendly include: 
A minimal amount of toner is used. These printers are designed to use a very small amount of toner, reducing the consumer's waste and cost. 
Minimal paper usage. Kyocera printers print on both sides of the paper instead of just one side, which means you use less paper overall and can be more cost-effective with your printing habits. 
Very low electricity consumption compared to other brands means less greenhouse gases created from power plants to produce electricity.
The ceramic components and drums that Kyocera utilizes last 3-6 times longer than any other manufacturer. When replaced, these components are then sent back to Kyocera for recycling. 
5. Century & Catalyst IT, investing in technology 
Century Business Products is committed to a digital future; not only do we work with Kyocera on its recycling programs, but we also pride ourselves on recycling all end-of-life products. These products are broken down and recycled for remanufacturing, nothing is sent to the landfill. 
 
Catalyst IT is our subsidiary IT company managing and protecting customers in the IT environment. This responsibility comes with recommendations and efficiencies that reduce waste with the use of technology.  
Moving Forward  
Kyocera plans to be 100% renewable at all Group sites by 2030. We are confident that they will achieve this goal and continue to strive towards providing the world with greener document solutions.  
 
Contact us today for a discussion on how your business can be more efficient.