My Q: Print Smarter and Scan Easier
Continuing education and learning is a huge part of Century Business Products success, as part of that commitment to our employees and customers Century held a three day training session in August. The sales department had hands on training with the Kyocera product line, demonstration and discussions on software available for the copiers and printers, the copiers and software work together providing for more efficiencies within the businesses we serve.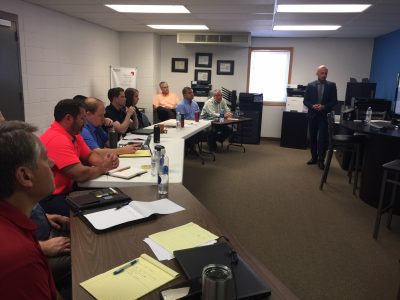 Pat Hoffman, our Kyocera software Solutions representative was here going over new applications that have been released for the Kyocera copiers. Did you know there is over fifty applications that can be added to the Kyocera copiers? Many of the applications have been engineered and designed by Kyocera, seamless integration with one company. Nice!
If your business wants to print smarter and scan easier then MyQ might be the product for you. Kristian Samler from MyQ was here going over their product that will allow companies:
to manage their device output and control cost with client bill back
provide for confidential print release at any device anywhere on the network
provide for simplified scanning workflows
monitor equipment alerts and all devices on the network
provide for simple and flexible device deployment.
 
As the presenters wrapped up then the group went to roll play dealing with handling the problems businesses have on a daily basis and then coming up with solutions that Century Business and Kyocera have to resolve those issues.
This was a very successful and fun training session.