Sioux Falls Office Hosts Annual Sales Meeting January 2019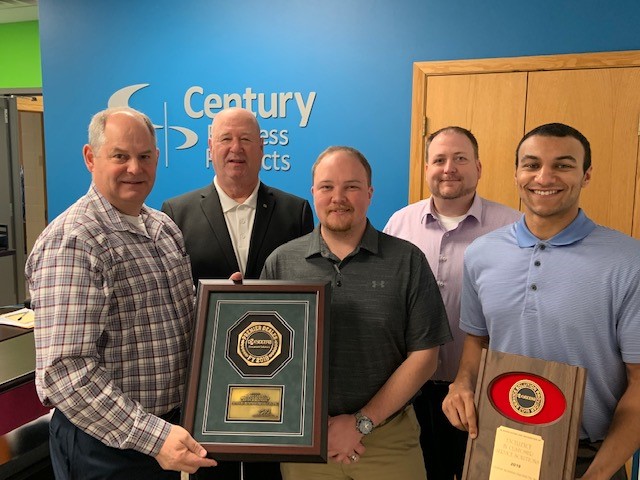 Trainings and Awards
Our 2019 annual sales meeting took place in Sioux Falls earlier this month. Employees from each of our branches attended this two-day sales training to learn more about new and updated Kyocera products. We discussed everything from document management and equipment technologies, to network services.
Attendees were also joined by special guest, Ken Johnson, Kyocera's Regional Sales Manager. Ken Johnson was present to acknowledge Century's performance during the 2018 year. Each of Century Business Product's branches were presented with two coveted awards: Premier Dealer award and Service Solution Provider award. While these awards are highly competitive, Century Business Products has been a recipient of both Premier Dealer and Service Solution Provider for nearly twenty years. 
| | |
| --- | --- |
| Kyocera 2018 Awards – Century Business Products' Sioux City, IA Office | Kyocera 2018 Awards – Century Business Products' Rapid City, SD Office |
Awarded 'Premier Dealer'
A Premier Dealer is a specialist Kyocera Document Solutions partner and is the highest level of partnership within Kyocera Document Solutions America with approximately thirty, of nearly five hundred dealers nation-wide receiving the award. This sales award is based on 10% year over year growth. Dealers must also be a Total Document Solutions certified dealership, and at all times maintain the highest standard in service levels, employ specialist service engineers and sales staff who are continually trained and evaluated specifically on Kyocera Document Solutions equipment to ensure maximum performance and customer satisfaction. Approximately thirty, out of nearly five hundred dealers nation-wide, receive the Premier Dealer award. 
| | |
| --- | --- |
| Kyocera 2018 Awards – Century Business Products' Pierre, SD Office | Kyocera 2018 Awards – Century Business Products' Aberdeen, SD Office |
Awarded 'Service Solution Provider'
The Service Solution Provider award is a great way for Kyocera to ensure quality within all technical aspects of the product line, ensuring all customers receive the best customer experience. Service Solutions Provider is awarded to dealers passing extensive dealer profiles including service certifications, level of training, parts availability, dispatching response times and application certifications. Recipients of this award must score over 90% across all categories.  With only 150 recipients, the Service Solution Provider award is only granted to a small percentage of Kyocera's qualified dealers